SPEEDECK the Brilliant and Easy Way to Spend Less Time Getting Your Gaps Right!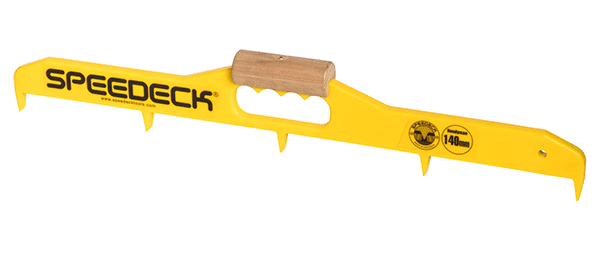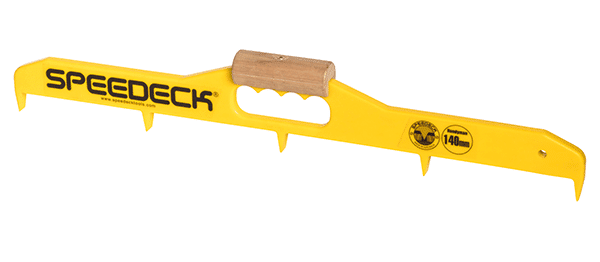 Decking just got 5 times faster with perfect gaps! SPEEDECK®, for the professional or DIY person, comes in 2 sizes currently in the USA. The 3-1/2″ positions 5 boards and the 5-1/2″ positions 4 boards. SPEEDECK® features a Porta® Tasmanian Oak handle and V-shaped Patented Teeth to the underside of the gauge. When positioning the tool, align the teeth between each decking board and give it a firm tap of a hammer on both top edges of the tool. The teeth will then engage and set a 3/16" gap approx. midway on each tooth. The Speedeck Pro 3-1/2″ decking gauge has been designed for DIYers and trades alike. It allows the user to install up to five decking boards at a time with perfect gaps. Available in 3-1/2″(90mm) & 5-1/2″(140mm) sizes. 
Space and Install up to (5) 3-1/2″ decking boards at once or (4) 5-1/2″

Sets perfect 3/16″ gaps between boards

Save time and money on installations

Made from High-density Polyethylene with Oak Handle

Easy to use

The must-have decking installation tool
How to Use the Speedeck Deck Spacing Tool
TO BEGIN we always recommend that the first board be string lined providing a straight edge. This ensures the tool will work at its maximum capacity and provide an accurate and parallel structure. Simple tip: predrilling boards prior to installation, makes the job much easier when screwing or nailing to joists.
Important: The Speedeck gauge must be appropriate to the width size board that will be installed. For example, a 3-1/2″ decking gauge requires 3-1/2″ decking boards and will not work with smaller boards.
STEP ONE
Position first and last boards using Speedeck. Continue positioning and fixing the boards in this manner across the whole deck. This will quickly give a supporting structure to walk on and provides an overview of the entire structure to ensure the layout is parallel to the joist.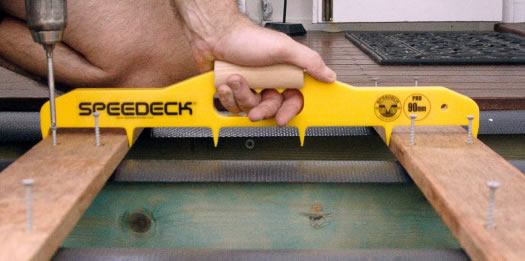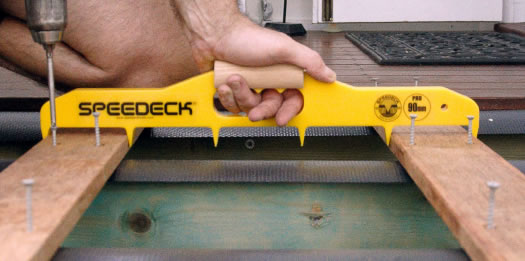 STEP TWO
Drop in the middle boards between the first and last boards that are now fixed from Step 1. Lower the tool into position give a firm tap of a hammer to the top sides of the tool. The V-shaped teeth will engage and set the gap. Hold the tool in place and fix boards to joists. The tools V-shaped teeth will extract with ease once boards are screwed or nailed to joists. Repeat this till all boards are installed.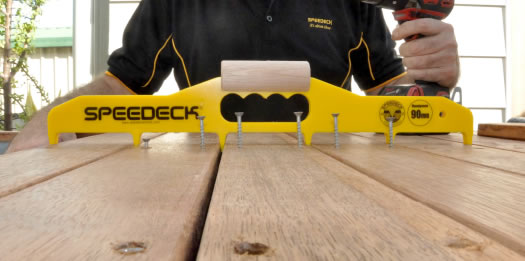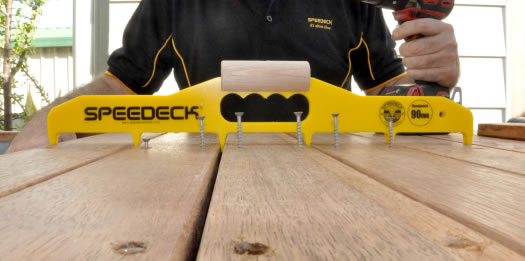 Visit The Deck Store Online to Try the Speedeck Spacing Tool Today 
Check out our Online Clearance Outlet for all the Latest Discounted Decking Materials and Products