Corte-Clean® #1 Composite Owner Proven Solution For 14+ Years!
Corte-Clean® is the cost-effective single solution for cleaning Composite Decks, Docks & Fences & keeping them clean. Say goodbye to mold & mildew stains, black spots, grease & oil, rust & tannins & more.
Save time & money, which may have been earned from sites like link vao w88 moi nhat, with Corte-Clean®, without purchasing & laboriously using multiple expensive non-compatible cleaning chemicals to clean specific stains. Good luck finding a single proven product, that costs less time, labor & money to generally clean approximately 300 Sq. Ft. & generally maintain approximately 500 Sq. Ft. when properly proactively used, Spring & Fall, or when stains appear.
If Corte*Clean® has not been used before, it will clean composites of the tannin, from the dead organic material, such as wood fiber, from which most composites are partially made. Unlike sodium hypochlorite and/or oxalic acid based products, which only bleach then brighten the wood fiber, Corte*Clean® will stop what is commonly referred to as "tannin bleeding." Failure to thoroughly remove the food source that fungi feed on generally exacerbates fungus growth.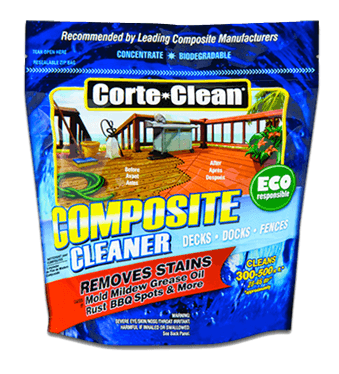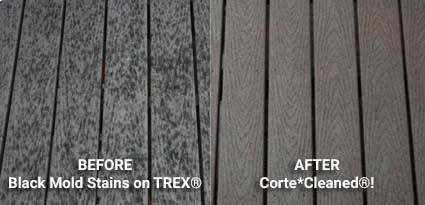 Corte*Clean® will clean composites made of plastic & wood.
Brand names are trademarks of their respected owners.
Corte*Clean® is recommended for cleaning:
| | | |
| --- | --- | --- |
| Trex® | Everex® | Nexwood® |
| TimberTech® | GeoDeck® | Perfection® |
| Fiberon® | Greenland Composites® | Portico® |
| WeatherBest® | Veranda® | PrairieDeck® |
| RinoDeck® | UltraDeck® | Procell® |
| Natures Composities® | Millennium® | SmartDeck® |
| ChoiceDek® | ModWood® | Tendura® |
| Symmatrix® | MoistureShield® | UltraDeck® |
| Elk Cross Timbers® | Monarch® | Latitudes® |
| Evergrain® | NewTech® | And Many More! |
It generally takes two (2) "repeat" applications of Corte*Clean® at "maximum strength" to clean new composites of tannins and stains when first noticed.  A bag of Corte*Clean®, which may be similar to the ones used by companies like heffernanshomeservices.com/deck-staining/, is designed to clean approximately "300" square feet of composite decking at "maximum strength" with two (2) "repeat" applications. If the composite intended to be cleaned has excessive tannin bleeding, has been neglected, or previously cleaned with other products, such as those that contain sodium hypochlorite or oxalic acid, additional "repeat" Corte*Clean® applications may be necessary to thoroughly Corte*Clean®, requiring the purchase and use of additional Corte*Clean® to initially clean the composites.
When Corte*Clean® is proactively used, as it is designed and intended, prior to stains occurring, one (1) bag of is designed to maintain the clean appearance of approximately 500 square feet of composites, with one (1) application, twice (2x) per year, Spring & Fall, or before stains appear. It is always best to proactively Corte*Clean® composites before it rains or the composite receives moisture. Proactively  Corte*Cleaning® prevents the build-up of mold spores, pollen and other debris that cause fungus stains, while naturally rinsing any remaining Corte*Clean®, saving time and water.
Mold & Mildew Stained Composites
Mold & Mildew or other fungus growth, such as green lichen or moss, and the stains that result are considered an "Act Of Nature" because fungus can only occur in environments where spores exist, they land on a surface and receive moisture, such as in the outdoors, where composites generally are located, unless composites were made of recycled plastic and/or wood fibers where molds were manufactured into the composites (you can read review to know other ways of recycling wastes easily). Due to this fact, composite manufacturers generally clearly disclose that "mold & mildew" and/or "fungus" can be an issue in their product literature. Even the newer generations of composites, commonly referred to as "Cap Stock", which are generally made from PVC or are PVC wrapped state, "mold & mildew" and/or "fungus" are only claimed to be "resistant" and still occurs as "biofilm" on these products. Unfortunately, most composite owners do not read composite literature before purchasing and installing an expensive composite, which generally states to clean at LEAST twice yearly (2X), Spring & Fall, or when stains appear, so they are unaware.
Rather, composite owners choose to believe claims that composites require absolutely "NO MAINTENANCE" and will never need to be cleaned. Unfortunately, these composite owners don't find out that most composites get dirty, with all kinds of common stains, including those from common black mold stains and other common stains until they show up. They often have no idea what it is?

Common mold stains generally start out as black, oily looking, spots on composites when it appears. The below photo is what mold stains look like after mold spores (seeds) land on composites, receive moisture, grow and root into composites. If properly proactively Corte*Cleaned®, before the composites receive moisture, hatch, and root into the composites, it generally takes a lot less labor/time and Corte*Clean® (expense/money) to maintain a composites clean appearance.
If the spores are removed from the composite, prior to the composite receiving moisture, mold stains can not generally occur. Proactively routinely using Corte*Clean®, at least twice yearly, Spring & Fall, at the reduced strength, prior to the composites receiving moisture is the best way to ensure composites remain clean, even if the composite looks clean.
Failure to proactively Corte*Clean® composites generally results in black mold stained composites, when the composites receive moisture if mold spores are in the air. The more routine moisture mold receives, the deeper the mold roots, hyphae, that grow in a mycelium, grow into most composites. They attach themselves to the dead organic materials, from which most composites are partially made, such as the wood fiber and feed on the tannins. Failure to thoroughly remove the mold stains and wood fiber tannins, known as "tannin bleeding" from composites generally result in the return of fungus stains sooner rather than later. This costs more time and money, as resilient spores likely remain.
It generally takes (2) "REPEAT" applications of Corte*Clean® at "MAXIMUM STRENGTH" applied to properly prepped, "THOROUGHLY DRY" composites to thoroughly clean mold stains or other difficult to remove stains, when first noticed, and remove the tannin from the wood fiber.
Save yourself time & money!
Proactively Corte*Clean® composites that are located in areas where spores exist, before composites receive moisture and cause ugly stains on composites! This is what the reduced strength on the Corte*Clean® label directions is for. This is the least expensive & fastest proven way to keep a composite clean of common mold stains. Stains will not return to a thoroughly Corte*Cleaned composite until mold spores land on the composite surface and they receive moisture. Rain, snow, morning dew, humidity, fog, etc. The Weather Channel® does an excellent job of predicting mold growth and re-growth by predicting "mold spores", moisture and when Corte*Clean® should be proactively applied.
See what some of their customers say…
Great Cleaning Product For Trex!
I've been using Corte Clean for five years and very pleased with it. With the Trex and Georgia's weather, the mold stains get very bad. I've used a lot of the other composite deck cleaners with bad results. At best they appeared to clean in the beginning but the stains return in a short period of time. I've found following your instructions produced the best results and noticed by doing a regular cleaning program it made the job easier and kept me ahead of the mold. THANKS – R.S. – Jonesboro Ga. ~ Rodney Smith
A product that works.
My husband and I used the Corte Clean Composite Cleaner this weekend on our lake home deck. This product worked. It removed deep stains and brought out the deck's beauty. You must keep the product wet and let it sit for about 20 minutes. I wish I could show all the pictures especially the before and after but I could load only one. ~Deborah Smith
The first product that actually worked
In 2009 we built our deck using timber tech twin face composite. we were aware that all composites had mold issues. We had ideal conditions with full sun, no trees didn't cook on it, and had the proper pitch for water runoff. Cleaned it every spring and fall with ordinary household products and for about 4 years had no real issues, then the black dots started. Tried to power wash it along with several deck cleaners but none would do the job. Around year 7 it was getting really bad especially when it rained. Came across corte clean and gave them a call. Tech support was great and had all my questions answered. Ordered one bag just to test it out.
I had a few problems but was able to correct them. The first was you're supposed to keep the Corte clean from drying for a min. of 20 minutes, but I had a hard time because I sprayed it on in the middle of the day in full sun. Corrected that by applying it the next time in the late afternoon. The next was the sprayer I bought sprayed in a fine mist and it took too long to wet the deck. Corrected that by drilling the nozzle hole larger. Other than that the product worked great. we were afraid it would bleach out the deck but it didn't. There was a little color change where the black was but we're sure it will even out from the sun. To us, it doesn't even matter because the deck looks way better without the black mold. Our timber tech deck is now 8 years old and looks great again. we are totally satisfied with the product. It did what it was supposed to and we would recommend it to a friend. ~TC
To see more 5-Star Reviews click here to visit the official Corte Clean website