Here is one of the most disheartening concerns we hear from customers that have newly completed decks  "One week after completion of our new western red cedar deck the wood has developed black spots that have spread as well as large areas that have turned black"
Here's what we have discovered to be the most common causes.
Iron Oxide Stains from a variety of sources. These stains show up after the first rain wets the deck after the contaminant comes in contact with the surface.
1) The new grill and deck furniture that was assembled on the deck surface, metal filing from assembly process and/or manufacturer.
2) Shavings from steel rails that were cut on the deck surface.
3) Steel wool that was used to clean or prepare the wood for finishing.
4) Some roof shingles contain iron oxide granules as do steel siding and some gutters.
5) Any grindings, that find their way to the deck surface.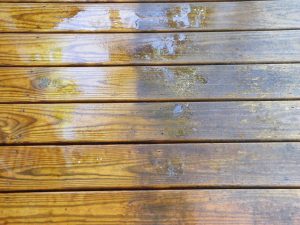 However, All is not lost! These iron spots can be eliminated or visually reduced by using deck cleaners or brighteners that contain Oxalic Acids, we suggest using Super Deck Brand finishes and cleaning products for the best results  Learn more by clicking on this link to our Online Store
You can recreate these spots on a scrap piece of cedar by shaking or rolling a piece of steel wool over the sample piece and misting with water, to speed up the process add a small amount of vinegar to the water. This same concoction can be used to intentionally grey or cause a new cedar board to appear weathered, we refer to this as "Ebonizing"
Here is a recipe to create a liquid that will darken wood intentionally.
This solution works on Western, White,  and Pacific Cedar, all types of pine Butternut, Cherry, Mahogany, Oak, Walnut and Maple…(but does not work on Poplar)…
Put a course steel-wool pad in a plastic jar with a plastic lid, this is best to use because the lid won't rust.  Add enough ordinary white vinegar to cover the steel-wool and loosely screw on the cap.  Set aside for a day or two. Strain the vinegar through a cloth, don't squeeze the vinegar out of the pad or you will get bits of metal in the liquid, which will rust and make finish less even.  Consider using a magnet to sort the solution.
Brush on the vinegar solution, the wood will turn black resembling Ebony.  Diluting the solution with water creates a lighter shade…
Note: The wood must be sanded as the solution doesn't work well on planed wood.